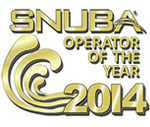 WE ARE CURRENTLY CLOSED FOR THE SEASON.
WE WILL REOPEN MID-MARCH 2024.
SNUBA® is an adventure of a lifetime.
You'll be able to:
Dive underwater up to 20 feet deep
Breathe underwater for 20 – 30 minutes
See marine life not accessible via snorkeling (burrfish, flounder, sea anemone, toadfish, spadefish, etc)
Experience an underwater dive with a certified SNUBA® guide
Your SNUBA® adventure will begin on our Coast Guard approved Snuba Runner.  We will depart at set times throughout the day on tours that last approximately 2 – 3 hours.  Your Destin SNUBA® adventure will start in shallow water and take whatever time necessary to get comfortable breathing underwater.  Once comfortable, you are then taken on a guided underwater tour.  During the dive you are never more than 20 feet from the security of the raft floating on the surface.  SNUBA® is a unique, patented shallow water diving system, bridging the gap between snorkeling and scuba diving.
Qualify for the tour:
At least 8 years of age or older
In good health or cleared by a physician to dive (you are required to complete and sign a brief Participant Record & Liability Release Form) Download our SNUBA® waiver.
Have basic swimming skills and be comfortable in the water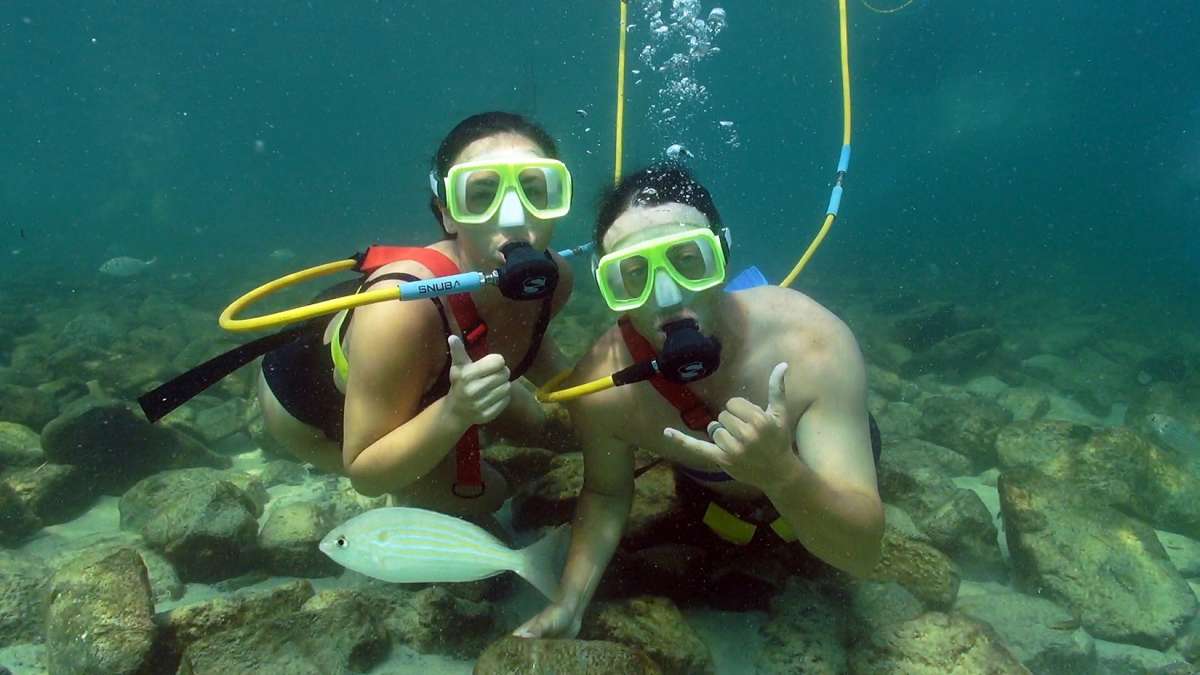 SNUBA® is safe and easy and does not require certification. Even if you have never snorkeled or have only basic swimming skills, SNUBA® diving is available for you.  SNUBA® is easily accessible to couples, families, children eight years and older, and seniors. It is a great way for a certified diver to introduce non-certified partners to the underwater breathing experience.
SNUBA® divers breathe underwater by means of a 20 foot air line which is connected to a standard scuba tank. The tank is mounted on a raft on the surface that follows your every movement. The air line allows you to tour underwater near the bottom, at mid-water or on the surface depending on your level of comfort.  Every SNUBA® tour is guided by a diving professional. Your guide will familiarize you with the SNUBA® equipment you will be using and briefly describe what you can expect in the water.
Safety briefing & skills review:
Participate in a 15-30 minute Safety Briefing about the SNUBA® system and what to expect during your tour
Review and practice the skills discussed during the briefing, including: hand signals for underwater communication, mask clearing, proper breathing, skills for controlled ascents and descents, ear equalization techniques and more.
Gear up:
A certified SNUBA® Guide will fit you with a SNUBA® harness, mask, fins and weight belt
Have fun:
Your SNUBA® Guide will be with you for your entire tour.
Underwater tour duration is approximate and varies per participant
SNUBA® Rates
Adults: $100
Children (ages 8-12): $80
There is a 10% service fee for parties of 7 or more. 
---

SNUBA® Video